The AXYS platform positions the rider for optimum control in all riding situations and delivers unmatched handling in even the world's most extreme terrain and conditions.
The AXYS platform on the TITAN positions the rider for Rider Balanced control in all riding situations - solo, 2-up, with cargo on-board, or towing a load. This platform delivers unmatched ride and handling both on- and off-trail for superior agility and performance in deep snow.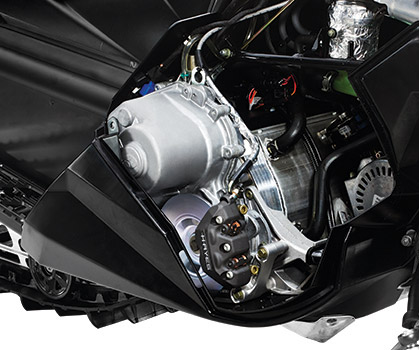 The industry's only brake system with an integrated idler shaft for brake disc.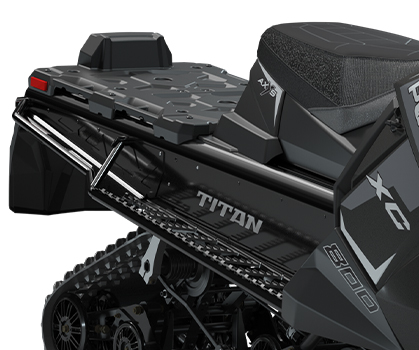 TITAN PowderTrac® Running Boards
The PowderTrac® Running Boards offer an optimized design for maximum snow clean out while maintaining extreme strength. The expanded cut-outs minimize snow and ice build-up. The running board has been designed to provide comfortable ergonomics for both seated and stand-up riding.
The TITAN delivers unmatched flotation and agility. Featuring an articulated rear suspension design that requires no adjustments to go from 2-up to towing large loads and allows you to easily backup over obstacles.
20 x 155 x 1.8 Cobra Track
The proven, versatile Cobra track provides excellent off-trail flotation and aggressive on-trail traction. The strong, stiff lugs won't fold over like some deep snow tracks' softer, more pliant lugs.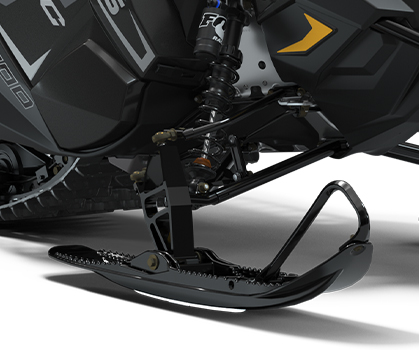 The Gripper Ski delivers impressive flotation in deep snow and smooth, easy handling on-trail. The top surface features serrated edges for boot traction in deep snow.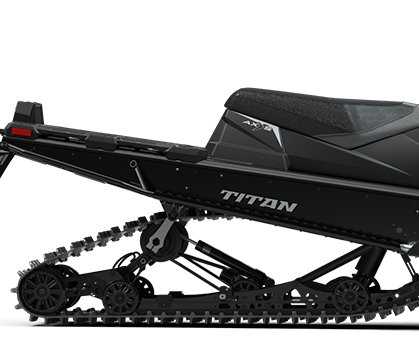 TITAN Articulated Rear Suspension
The Articulated Rear Suspension provides outstanding ride and handling in all conditions both on- and off-trail. It delivers a smooth ride on trails and can absorb the bumps off-trail. The suspension geometry has been optimized for confident towing, and the rear section of the skid tips up for easy backing up over obstacles. Plus no adjustments are required when switching between solo or 2-up riding or when hitching a large load.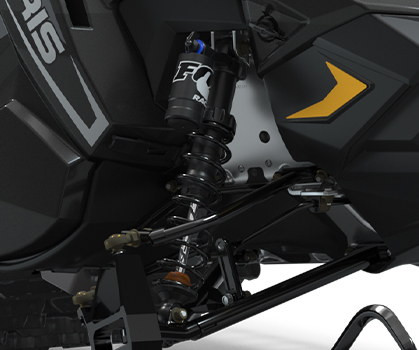 Polaris Internal Floating Piston (IFP) Shocks deliver both durability and high-performance. They perform reliably under the harshest conditions and also deliver a smooth ride and handling.
The TITAN is equipped with rider-centric innovations to dominate the most extreme conditions including unmatched cargo carrying and towing capabilities along with storage solutions. The Power Boosting Regulator delivers maximum electrical power at idle and low RPMs for comfort and convenience.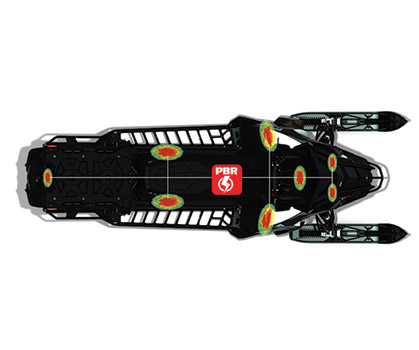 The industry-first Power Boosting Regulator delivers maximum electrical power at idle and low RPMs. This ensures electrical power for rider comfort and convenience features, such as accessory heated seats, hand warmers, battery charging and other accessories.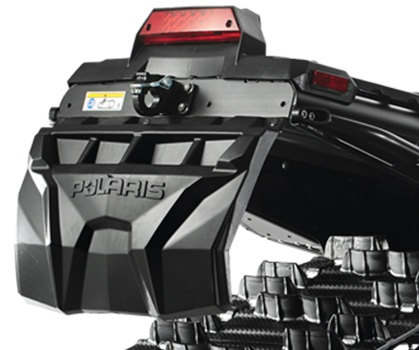 Towing & Carrying Capabilities
TITAN offers unmatched cargo carrying and towing capabilities. With a 1,200 lb towing capacity you can tow more than on any other sled. Plus the sled's integrated mounting system lets riders add or remove cargo easily and quickly.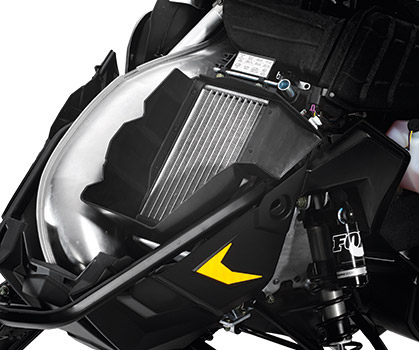 Cooling System with Radiator
This durable, efficient cooling system and radiator ensures consistently reliable engine operation in even the most extreme conditions. The radiator is strategically mounted for ultimate cooling airflow and minimal snow or debris build-up.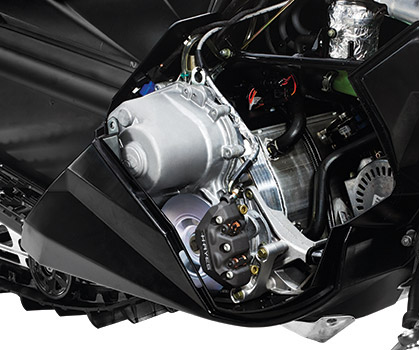 The durable, reliable TITAN transmission provides smooth shifting and drive ranges to suit even the most extreme conditions or situations. Drive ranges include High, Low, Reverse, and Neutral.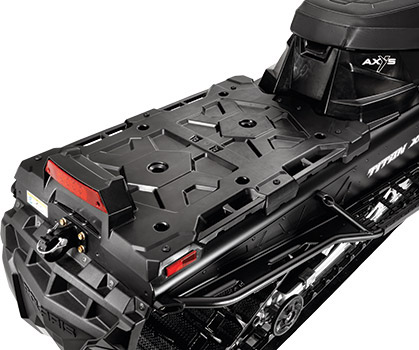 Integrated Lock & Ride Versa Storage Platform
Innovative, TITAN-exclusive storage system optimizes the convenience and security of carrying cargo. With an industry-leading carrying capacity of 85 lbs, the design allows for maximum storage with or without the passenger seat. Ideal for hauling fishing gear, tools, firewood, and much more.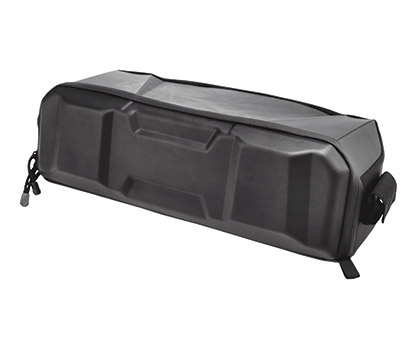 Lock & Ride Versa Storage Cargo Box and Rack
Lock & Ride Versa Storage Cargo Box and Rack accessory options keep cargo both secure and protected. Engineered for easy quick and easy mounting. Additional storage solutions are available for every type of cargo you need to carry.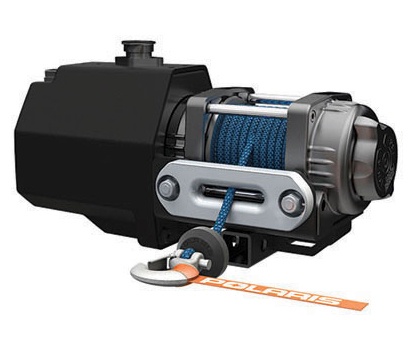 Integrated 1500 lb Winch Accessory
Versatile, mobile pulling power is available everywhere you ride with this powerful integrated winch. It can be operated with the sled engine idling or off and can be mounted on the rear of the sled. Use the winch power to free stuck vehicles, move large items, and tackle tough jobs.
This high-capacity fuel tank will provide extended range and will provide those who ride far off-trail with extra peace of mind. Minimizing the need to carry extra fuel frees up even more storage space for other cargo.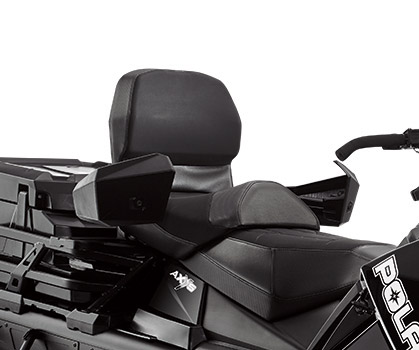 Accessory Seating Options
Polaris offers multiple accessory seating options for added rider comfort and passenger seating on the TITAN XC.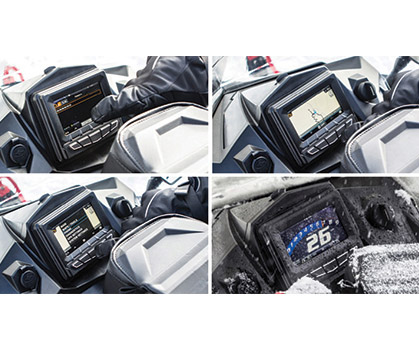 Polaris Interactive Digital Display
This exclusive and industry-leading full color display provides important information and capabilities to the rider such as: sled performance, Bluetooth™, GPS mapping, Clock, and LH Control. This gauge comes as an option on some models and is also available as an accessory.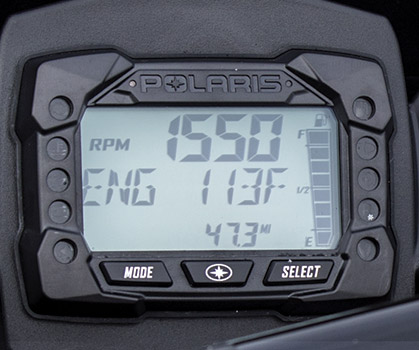 Informative and easy to read, the MessageCenter Gauge keeps a rider aware of sled operating conditions and provides a wealth of additional data