The Voyageur 155 is built to deliver performance wherever your snowmobiling day takes you. From accessing the power line to checking the trap line, aggressive tracks and tough, wide skis keep you on top of the snow.
The PRO-RIDE chassis of the 550 Voyageur 155 is stiff for precise, intuitive handling that makes it the ideal choice for a nimble sled that's fun to ride.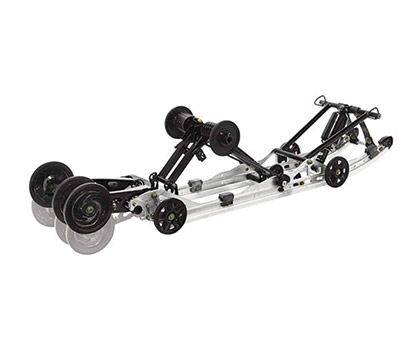 Articulated Rear Suspension
The 155 rear suspension features an articulated rail for the best off-trail snowmobility and to prevent trenching when backing up. The rail tips up at the rear so that the track can ride over obstacles and is easier to back up.
The strong, lightweight PRO-FLOAT skis provide outstanding off-trail flotation and unmatched on-trail steering and control. These skis feature a unique dual, stepped keel design that provides more responsive deep snow handling as well as outstanding handling on the trails. The upturned rear edge accommodates backing up over obstacles, and the serrated top of the ski provides traction for a rider's boot.
High-Flotation 155" Track
The 1.6" Cobra track features deep lugs with a cupped design to deliver outstanding off-trail performance. The lugs provide great deep snow traction and their stiffness ensures great on-trail performance as well.
With its hitch, rear rack, and Polaris rear suspension technology, the capable Voyageur 155 maintains control and precision whether under the load on-trail or in the deep snow.
Integrated Storage & Cargo Rack
Storage was developed with the AXYS platform, so it installs securely without tools and features seamless, integrated styling that matches the sled's design lines. Sturdier zippers provide better cargo security and protection. Underseat storage comes standard with the Voyageur 155.
The hitch is hinged low for greater versatility and better towing.
With the perfect blend of Polaris suspension technology, the Voyageur 155 delivers the best off-trail performance with confident trail handling at any speed.
PRO-RIDE Front Suspension
Nimble yet stable, the adjustable PRO-RIDE front suspension delivers superior ride performance and handling on- or off-trail.
RydeFX® shocks provide a great foundation for riding and handling when boondocking.
A wider surface provides enhanced comfort during long days on the snow, and the seat design allows easy transition between seated and standing positions.