Experience RIDE COMMAND by Polaris
Enjoy the confidence to plan your best rides, track your unforgettable journeys and share your epic adventures.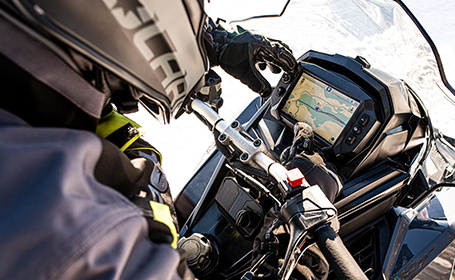 PLAN. TRACK. SHARE. CONNECT.
Create and Plan your route with on-board maps and trails
Full set of gas, food, and lodging information available on or off line
Group Ride Feature keeps all riders in sight even when you split up
Full Trail Conditions updated in real time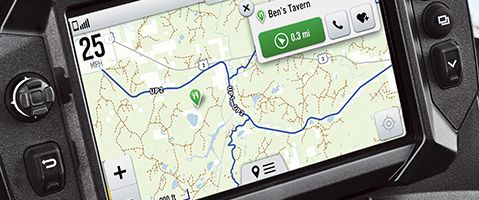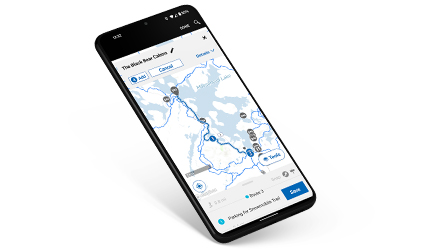 The Industry's Leading Trail Guidance Technology has changed the game once again with RIDE COMMAND's all new Snap-to-Trail Technology that increases route accuracy and dramatically reduces ride planning time & effort.
7S Display with Ride Command Integration. Full Color, Touch Screen, and GPS Display.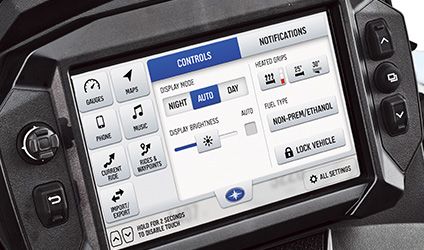 7-Inch Glove Touch Compatible Display
Easy control in cold weather
Dedicated day and night mode
Display adjusts automatically based on ambient light levels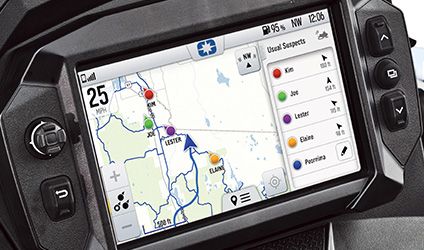 Industry leading Vehicle to Vehicle Group Ride allows you to see and follow your group - whether you have cellular data connectivity or not
Auto records every ride to the display with 64gb on onboard storage, and is fully transferable via USB
View speed and RPM along with 7 additional configurable gauges on your main gauge screens.
Control Media with USB and Bluetooth Connectivity
Pair your phone via Bluetooth and connect your Sena headset to make phone calls and listen to music..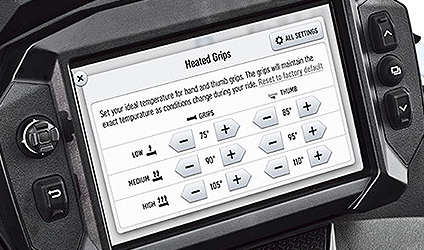 Industry Exclusive SmartWarmers
Build heat quickly and maintain your customized temperature regardless of the temperature outside.
Enhance your ride further by setting thumb vs. hand heat range for an even more customized level of comfort.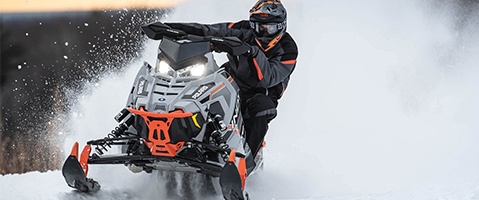 This app is great for when you are riding on the trails! The map includes all of the ORV trails and routes, places to eat and places to fill up on gas. Five stars for everything about this app!
- RIDE COMMAND App user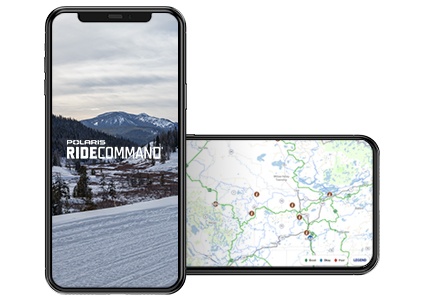 Access the benefits of RIDE COMMAND with our mobile app, even if you vehicle doesn't have the in-dash display. RIDE COMMAND's all new Snap-to-Trail Technology increases route accuracy and dramatically reduces ride planning time & effort. Connect with friends, share your routes and unlock the five-star riding experience only RIDE COMMAND can provide.
Conveniently created for riders to elevate the off-road riding experience on the go. Access comprehensive trail data, track your rides, and manage your routes, waypoints and more. The app also allows you to participate in Group Rides along with RIDE COMMAND equipped vehicles.

View, select, or add way points such as ride areas, points of interest and dealerships, then let the RIDE COMMAND app create an optimized route for you to sync to your machine's display.

Experience group riding like never before with RIDE COMMAND Group Ride and the Follow the Leader feature. Invite a rider to your group to see their live location on the map. Assign a rider in your group to be the leader and follow their trail through any twists and turns you encounter.

Connect with Other Riders
Share your ride experience with friends and create events with fellow off-road enthusiasts. With 3D flyovers, you can share your favorite rides, including photos, even after the ride's over.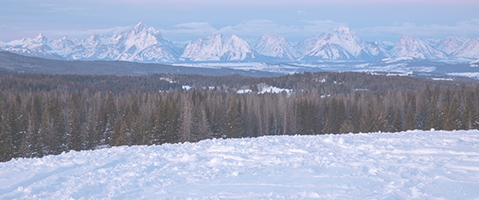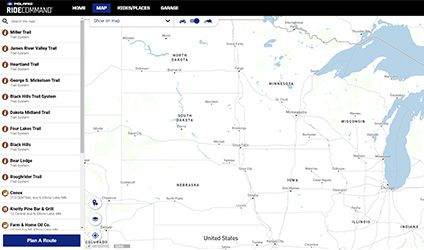 Access over 750,000 miles of trails to plan and discover new riding opportunities. View and manage all of your map content, including tracked rides and waypoints, in your RIDE COMMAND account.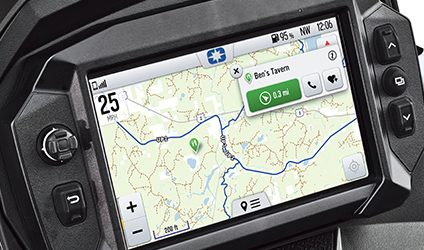 Trip Planning and Points of Interest
Plan a route using off-road trails and your own tracked rides. New trail and point of interest data is available daily for you to plan the most accurate and entertaining adventures. View 3D flyovers of your planned route, create your riding group, and share everything with friends before you hit the trails.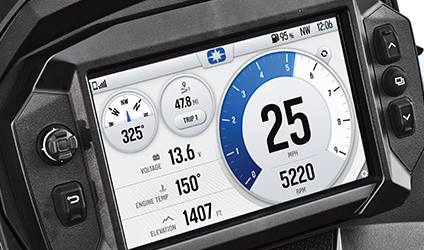 Add your vehicles to the Garage and keep detailed maintenance records. Continue to build your virtual garage to stay up to date with the latest information tailored to your specific vehicle, including RIDE COMMAND software updates.