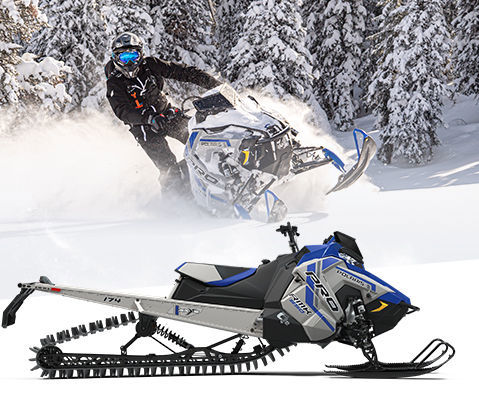 Introducing QuickDrive2 (QD2)
Exclusive to SnowCheck, the instant response of the new QuickDrive2 paired with the all-new Series 8 track delivers the lowest effort all mountain sled ever created.

The lightest, strongest, most flickable deep snow sled on the market.
The combination of the raised and lightweight AXYS platform, a powerful Polaris engine, and the Polaris-exclusive track designs pop the PRO RMK 174 on top of the snow.
The AXYS platform features Rider Balanced positioning that delivers ultimate control for the rider for precise, effortless sidehilling.
The world's best mountain sled is built to be the lightest and most rigid, making it incredibly responsive to rider inputs. This allows you to change direction and maneuver confidently in all conditions.

850 PRO RMK QD2 174 3"
Starting at
$16,699
CA MSRP
The sled that defines the mountain segment: the PRO RMK. Lightweight, rigid, and perfectly balanced, the Pro always wins when the terrain is deepest and steepest. The 174" track dominates the gnarliest terrain with maximum traction and floatation.
Includes
Engine: 850 Patriot
Drive System Type: QuickDrive2 (QD2)
Front Shock: WER® Light, WER® C/A
Front Suspension: AXYS RMK React
Front Track Shock: WER® Light
Rear Track Shock: WER® Light, WER® C/A
Track Width/Length/Height: 15 x 174 x 3.0" Series 7