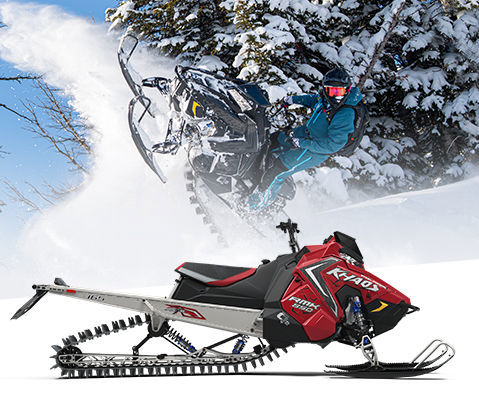 Introducing QuickDrive2 (QD2)
Exclusive to SnowCheck, the instant response of the new QuickDrive2 paired with the all-new Series 8 track delivers the lowest effort all mountain sled ever created.

The Perfect All-Mountain Sled
All-Mountain Architecture
The most agile mountain sled - ever. Designed for all riding zones for a lively and dynamic backcountry experience.
The AXYS platform features Rider Balanced positioning that delivers ultimate control for the rider for effortless riding.
The most agile all-mountain sled comes standard with WER Velocity Hi-Lo for the best of the best in various mountain conditions. Plus, the light and rigid design of the KHAOS® Rear Suspension improves weight transfer for more control to deliver more power directly to the snow.

Agile and Ultra Responsive on All-Mountain Terrain
850 RMK KHAOS QD2 165 2.75"
Starting at
$16,699
CA MSRP
Easiest to initiate side hills, handles the rough single track and big air jumps with ease. Playful and wheelies in the meadows. New suspension geometry and WER® Velocity Shocks let you conquer it all.
Includes
Engine: 850 Patriot
Drive System Type: QuickDrive2 (QD2)
Front Shock: WER® Velocity Hi-Lo
Front Suspension: AXYS RMK React
Front Track Shock: WER® 2" Velocity Hi-Lo
Rear Track Shock: WER® Velocity Hi-Lo
Track Width/Length/Height: 15 x 165 x 2.75" Series 8